THE SIMPLEST WAY TO EARNING BITCOIN – CRYPTO FAUCET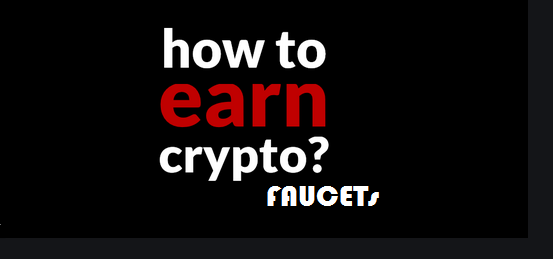 In this article, lets learn about crypto faucet is the simpler, easier and the laziest way  of earning Bitcoin, Litcoin, DashCoin and dogecoin with an instant payout, without depositing money or having an Asic Miner, Mining Rig even though dealing with complex setup for special equipment with technical knowledge required and whatsoever.
Sounds Great? This is COMPULSORY step you are required and it is totally free from;
CRYPTO MICRO WALLET
Before proceed further, you need to have a Cryptocurrency Micro wallet.
Please don't get confuse between crypto "microwallet" and "mainwallet" like Xapo, Spectrocoin, Coinomi etc.
Micro wallet designated to collect and combine payouts and earnings instantly from a number of different crypto faucets or sources or web mining.
It supports multiple currencies as bitcoin, dogecoin, litecoin and Dashcoin.
Initially Withdrawal from "microwallet" to "mainwallet" options includes  XAPO, Faucet Hub, Faucet System and direct to your wallet via the blockchain.
NOTE: Each of these options has different withdrawal thresholds and some may incur a withdrawal fee.
Kindly take notes all of the rewards payout from the listed program below credited immediately through this Micro Wallet and you can have one using this link here.

Great Effort = Great Rewards. Therefore, if you are expecting Great Rewards with huge bitcoins, you are required to setup software and hardware and connect it to mining pool or use cloud mining service. Please beware of SCAM and PONZI SCHEME!!!

PROGRAM 1 – CRYPTO FAUCET
Faucets are a reward system in the form of a website or application and these faucets sites usually contain advertisements.
Advertisers pay the faucet owner to display these ads on his site. Faucet owners make money by placing those ads on this highly engaging websites and that give away the rewards of Bitcoins to their web users, visitor and viewer.
The reward amount, anywhere from 100 Satoshis which is around 0.000001BTC up to 10,000 Satoshis and could be more as 0.0001BTC.
Bitcoin faucets were developed by Gavin Andresen in 2010.
How to use and earn via faucets?
Using faucets is very simple. Once you visit the following faucet site below :
Please find the faucets List below for your references. Earn FREE bitcoin, dogecoin, dash and litecoin from these faucets:



You have to enter your "micro wallet" address or the email id associated with your micro wallet and hit ENTER. 
A timer will start counting the amount of time you spend on the site. Once you spend a certain amount of time on the site, you can claim your reward by clicking the "Claim Now".
You will have to prove that you are a human by filling in a Captcha or by solving a simple mathematical problem, (this prevents any automated script from claiming rewards at regular intervals). 
That is it…! You have claimed your reward and it will be credited immediately into "micro Wallet".
The faucet crypto list above allowing you to claim as often or as little as you like within every 5mins *So the longer you leave it the more you will be able to claim.
You may prefer to claim a smaller amount every 5 minutes, or visit once per day and claim the large amount that has built up while you were away!
PROGRAM 2 : WEBMINING
CoinPot.io provides the ability to use your browser (manually start) to mine for you.
Yes, you already use a computer and browse for your faucets, so why not keep another tab open and use your computer to mine some extra coin! *only run one webminer per session from Coinpot Console
PROGRAM 3 : REFER A FRIENDS
50% lifetime commission + up to 100% claim bonus!
Refer your friends, enemies and everyone else to your registered Faucet above and receive a massive 50% lifetime commission on all their faucet claims!
All commission payments are paid instantly to your Micro Wallet account.
Additionally, for each active referral that you have, you will get a bonus 1% (up to a maximum of 100%) added on to every claim that you make from the faucet. (A referral is considered to be "active" if they have made at least 1 faucet claim in the previous 72 hours).
Minimum withdrawal from microwallet to mainwallet is 10,000 satoshi (No fee to Coinbase, Xapo Wallet) Other Wallet with 1,000 satoshi withdrawal fee.

Minimum withdrawal with no fee in all wallet is 50,000 satoshi.

24-48 hours to receive payout to Mainwallet. 
Will keeps constantly updating to stay relevant. Would also like to hear from you.. Kindly leave a comment.
QUESTION AND ANSWER
Why can't I make a faucet claim?
You might be having problems making a faucet claim for one of the following reasons :
Advert Blocking
If it detect that you have blocked adverts or they aren't showing up in your web browser then we will prevent you from making a faucet claim. If any of our adverts are not showing then there must be something blocking them on your browser/device.
This may be an ad-blocking browser plug-in or extension – if so, please disable your ad-blocking browser plugin/software or add this page to the exception list.
Browser/Device Incompatability
This faucet web site is designed to work on the broadest range of web browsers and devices possible.
However it may be that your browser/device is not supported and you receive an error message when you try to claim.
If so, please try a different browser or device to check that this is the problem before contacting us about it.
Zade
Zade has been a ghost writer and provided his services independently since 2017