The importance of knowing "How to read or learn the behavior of trading candlestick pattern and formations" of chart graph which is one of the techniques that need to be mastered and familiar by the traders.
It also can help traders making trading analysis and the final decision before made an entry position.


BEHAVIOR OF CANDLESTICK PATTERN AND FORMATION
1. Candlestick Contrary
Candle chart will move continuously when one party dominates the market, followed by the other parties "in the opposite direction of the market". * "Party" herein is conversational traders such as banks, central banks and forex traders.
2. Candlestick Aggressive.
"Body candle" is more elongated than before, making forex traders took the opportunity to open a position along the movement trend. This makes a strong force in the movement of market trends quickly.
3. Slowing Candlestick
The chart moving slowly. This situation where the trader to wait or hesitate to open a position
4. Reversal Candlestick Direction (reversal @ bounce)

Applies when there is a market that has been in a position to saturate (overbought or oversold), then many parties @ trader who wants to reverse the direction of the market trend.
5. Convergent or Divergent Candlestick
The circumstances in which there remains the party who want to take full advantage in the current market trend in the reverse direction. Convergent and Divergent be seen through Oscillators indicators (RSI, Stochastics, MACD, CCI)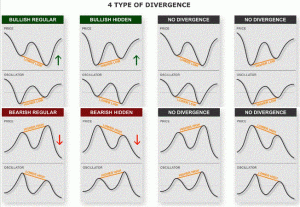 PRINCIPLES OF UNDERSTANDING THE CANDLESTICK
CANDLESTICK INSIDE BAR


Inside this bar can be strengthened again if it appears in the near area "support and resistance", it's one candle in half position from the candle before or after. Inside Bar Occurrences like as alert a "precaution", whether prices will continue the trend or reversal trend direction (@bounce). *picture: Black Candle (popular in red color) represents the "power of sell", when the White Candle (popular in color green) represent "power of buy". The arrows represent price trend that will prevail …
CANDLESTICK PINBAR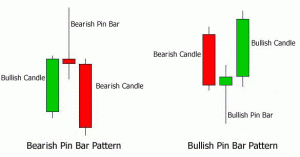 Pinbar arise when price indicates an uptrend so bearish (down), pinbar appear in a downtrend indicates the price so bullish (rising). Opportunities direction of the trend reversal @ bounce at 80%.
CANDLESTICK ENGULFING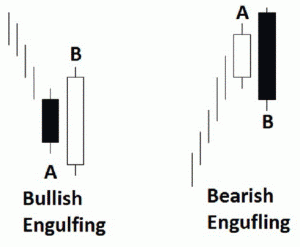 It's kind of the most popular. It indicates the movement of price reversal @ bounce. In technical analysis engulfing candlestick consists of a Bullish Engulfing candlestick and Bearish Engulfing Candlestick.
CANDLESTICK MARUBOZU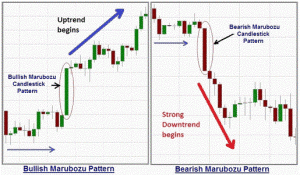 It Indicates there is only one party that dominates the market * 80% strongly without any resistance from the other party. Accretion of one marubozu to another marubozu (down or up trend) shows the stronger price movements following the trend.
CANDLESTICK HAMMER
A trend reversal, become bullish during downtrend, which can mark as Support Level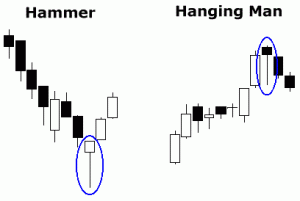 CANDLESTICK HANGINGMAN
A trend reversal, become bearish during uptrend, which also can mark as Resistance level.
CANDLESTICK INVERTED HAMMER & SHOOTING STAR.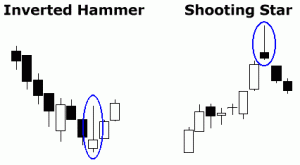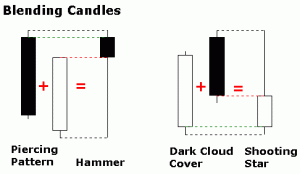 candles with small bodies and shadow either long and short underneath or non-existent, which also can be marked as Support or Resistance Level.
NOTE: Above are the pattern @ candlestick with a popular name from out of largely candlestick's name that exist in the Forex Market. It is not necessary to remember all of them. Please considered to emphasize on other factors such as SNR, NEWS FUNDAMENTAL trading and etc. Increase your understanding, experience, strategies and techniques while in DEMO, even if you have been in a Live Account.
CHART PATTERN OF THE CANDLESTICK CHARACTERISTIC.
it also called as "Price Pattern" – a signal for the traders of the momentum of market trend. *red line indicated in the image is "neck line"
image from https://i.redd.it/u7pxhg28lszy.png[/caption]
Zade
Zade has been a ghost writer and provided his services independently since 2017