WHAT IS FOREX AND HOW TO MAKE MONEY IN FOREX
To trade forex and generating an online income,  it is very important to know and learn a basic before you going to spend hundreds or thousands of Dollars for:
FOREX-class:

payment, mostly fees are often expensive. (Needless to say, after end of the class session – we can still find trader(s) give-up, frequent loss in trade & etc.*

Most Forex

Broker

provided learning module in their website for traders

.
‌

FOREX EBOOK

 :

mostly contents are COPIED from google page, yahoo..etc and then sell it to you or …
Deposit into REAL ACCOUNT without or with a little knowledge & start trading with the real money before gone through "Back-test" via ⓘDEMO account.
SIMPLE UNDERSTANDING OF HOW TO TRADE FOREX

Foreign exchange known as FOREX. example below to understand how trade forex works:
STEP ONE – CHOOSING BROKER
Choose a forex broker, a company background with a strong, regulated, clear and reliable.
The smart way is to review compliance and pay attention to any important awards or positive reviews that forex brokers have received..
Once you've identified the forex broker, create an account and enter the deposit amount (as low as 10usd).
STEP TWO – SELECTING CURRENCY PAIRS
Select a currency pair, for example EUR / USD, it mean Euro against US Dollar
Buy a EUR / USD pair, which means buy a Euro and sell a Dollar.
While selling EUR / USD pair, it means selling EUR and buying Dollar.
STEP THREE – ANALYZE MARKET FOR ENTRY
Perform or analyze market trends on selected currency pairs.
(there are various currency pairs in the forex trading other than GBP / USD, USD / JPY, USD / CHF, AUD / USD and so on)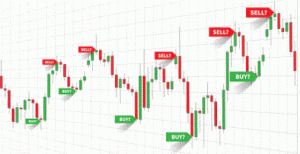 Example:
From the analysis shows the currency pair tends to decline, it mean the right position or entry that needs to be taken is "Sell" but if the market trend tends to go up, then the entry position is "buy".
note: Forex traders will be at a loss if the market trend is against their entry. However, there are a variety of techniques and strategies can be applied to minimize risk of loss through "Trading Setup"
CONCLUSION
Above, just a summary of how to trade forex is to buy a pair of currencies at a lower price, and sell them at a higher price, and their profitability is the difference between Buy and Sell prices.
"Wisely in 'taking a chance" and 'risk off' is a key element of Forex's business. Once you understand the basics, it is very easy for you to find an approach."
Through the trading PLATFORM, traders can see details of Trading Accounts: transaction history (profit & loss), margin, balance and so on.