PROFIT BETWEEN CRYPTO TRADING AND INVESTING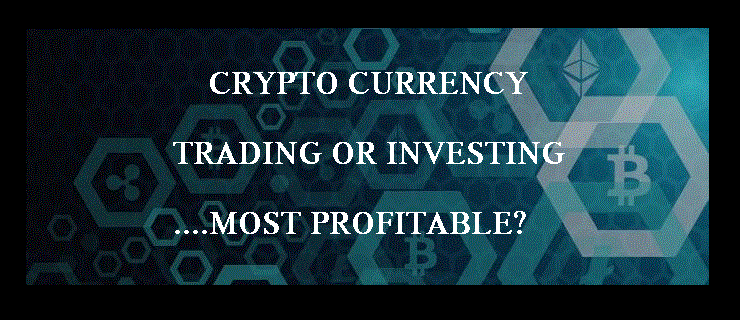 A CRYPTO TRADING AND INVESTING
Nowdays lot of bitcoin enthusiasts, crypto hunters and crypto lovers talking about trading and investing in crypto that has promised lucrative returns.
There are also so many of investors who are stuck in ponzi or money game schemes. Perhaps due to lack of knowledge, exposure and without due diligence efforts.
Daily trading volumes in crypto currency are around the $14billion, while in forex trading is closer to $5trillion.

The spread (the difference between the buy and sell price) on foreign currency trades will be a few pennies at the most, while spreads on crypto currency trades can be as high as a few dollars.
Find out which one fits and suite your financial, knowledge and style either to trade or invest in crypto.
1 – TYPE OF CRYPTO INVESTMENT
Crypto trading are primarily on bitcoin, ethereum, bitcore etc means;
▪ buy and store crypto.
▪ invest in hardware-rig or cloud service for crypto mining.
▪ hodl or stack to earn 5-50% crypto from secure node or master node. (Most investor does not have or less technical knowledge in setup master node)
▪ Investment Scheme through smart contract or Multi Level Marketing. (Caution: mostly all of them are fraud!!!. I don't trust at all. If you found a good one, please share- thank-you)
These types of investors will store the acquired crypto and sell it when it reach at the peak price (on average the target price >$20k).
Example of crypto investment:
invested $400 in XXCoin today and it price at $4 – would have a total of 100 XXCoin.
Let's assume the price raise to $9 in a year's time. The initial investment of $400 is worth $990, it is a 147% gain after one year.
or…
Through staking in master/secure node – let says 10% Annually Compounding – after one year receive an additional of 10XXCoin in total result of 110XXCOin.
If it price remain at $4 after a year – total amount of stacking shot-up to $440 which is profit of $40. That's an additional 22% gain from 'crypto dividend"
2 – NATURE OF CRYPTO TRADING (FUTURES)

It's conducted on available platform either on the Exchanger or Trading Brokerage.
2.1 CONTRACT FUTURE DERIVATIVE (CFD)
Through CFD trading also called as margin trading – it is not required to have a coin to get a results, just trading the price movements of currency pair (eg btcusd, ethusd, ethbtc and etc) so potentially profitability regardless of the direction of price movement (down or rising).
It is a method that allows traders to trade or invest in asset through a contract with a trading brokerage
CFD or margin trading – trades asset value without having to buy or save the actual crypto.
CFD or margin trade instruments traded using stop loss, take profit and leverage tools.
TIP: Crypto currency is volatile. Do "margin trading" if you are really know exactly what that is. Protect CFD accounts and reduce risk through selection of regulatory, secure and credible brokerage.
2.2 – TRADING ON CRYPTO EXCHANGE PLATFORM.
It actually more like buying and selling an actual asset which is a crypto currency.
Profitability strategies is fairly simple – the buying price < selling price in the short term.
Most traditional markets, stocks and commodities, have an opening and closing time. With crypto trading, you can buy and sell whenever you please.
A SIMPLE METHOD TRADING CRYPTO ON EXCHANGER PLATFORM.
1- Open an account with crypto exchanger (will share more in the next posting regarding security aspect, best price or fees and so on, because not all crypto-exchanger is fraud-free).
2 – The base currency is Bitcoin to buy Altcoins such as Ethereum, ZCash, XRP, Bitcore etc
3 – Make Altcoin purchases (at low rates) with bitcoin's value, and resell Altcoin (at high prices) Tips : Understanding of technical analysis such a SUPPORT and RESISTANCE is required.
4 – All profits are converted to bitcoin at the end of each trading day.
2.3 POTENTIAL ARBITRAGE IN CRYPTO TRADING
This is the safest and simplest way to make money in crypto trading.
Arbitrage means creating an opportunity buy an asset in one place for a certain price and sell it immediately at another place for a higher price.
It is important that know the asset can be sell immediately at a certain price. If this does not hold, then it is just a speculation which is lead to gambling.
Crypto currency is in a free market that is beyond the government's control; therefore it has a lot of prices and also the volatility across different exchangers (usually find 5% to 40% of spread).
2.4 CRYPTO TRADING ROBOT
A trading ROBOT is a computer program that uses an algorithm or an indicator code to analyze the trend market before executing or opening an "entry" automatically.
Type of trading robot analysis based on;
1 – The candlestick chart or pattern
2 – Indicator such EMA @ Exponential moving average
3 – cloud-based platforms (traders can create a trading robot)
The fact is, many people out there trade and invest at the same time.
Zade
Zade has been a ghost writer and provided his services independently since 2017